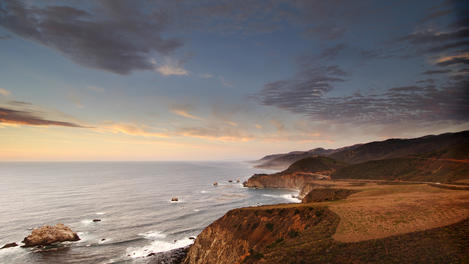 All that traffic and city living burnt you out? Escape the clutches of the daily grind and decompress in lush, laidback Big Sur - it's oh so near but feels oh so far.
Known for its counter-cultural tendencies, Big Sur feels like a rural mountain community with an earthy, artsy bent. Here are a few of our favourite things in Big Sur:
Pfeiffer Big Sur State Park: California knows how to do a redwood. In this park you can hike through towering redwood groves, see the 60ft-high Pfeiffer Falls, climb to Valley View vista or dig down into the purple sand of Pfeiffer Beach - purple because of the manganese garnet that washes down from the hillsides above.
Esalen Institute: Only open to the public after midnight, the natural hot-springs baths of the Esalen Institute are worth the crazy effort of making reservations for, with au-natural pools perched on an ocean ledge and stormy moonlit surf crashing below.
Big Sur Bakery: This rustic, wood-shingled café produces feather-light artisan pastries and oversized cups of robust coffee. Grab a spot on the outside deck to enjoy a backdrop of lush green mountains and hummingbirds showing off.
Henry Miller Library: Miller lived in Big Sur for 18 years (Kerouac also lived here for a time) and this house celebrates his life and work with a great collection of books by Beat and Big Sur writers and eclectic cultural events.
Glen Oaks: Restored to its 'Mad Men in the forest' 60s chic, this rustic motel has been renovated using recycled elements while retaining incredible style. There are no TVs in the rooms - just wall-mounted gas fires to watch. Strangely captivating.
Big Sur Roadhouse: This incredible restaurant isn't slinging greasy roadhouse grub - its chefs once worked at the award-winning Sierra Mar restaurant. The Latin-inspired menu utilises fresh local produce and the results are incredible - you'll never have a spinach salad quite like theirs.
Download the Central Coast chapter from our latest Coastal California guide and head for Big Sur. It'll be the start of a beautiful friendship.